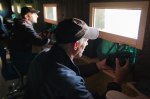 Bear watching from Bear cabin
With a packed picnic basket, we go out into the Swedish wilderness. With an abundance of wildlife we have a good chance to see moose and grouse along the road.
At the end of the road we gather to go quietly the last stretch to the Bear cabin, cited only 50m from a feeding post there you and the guide will spend the night, hoping to experience an encounter with a wild Swedish brown bear.
Brownbear watching
package1
Day1

-15.30 Collection of presentations on what might have experienced during their stay in the bear cabin and then we pack a picnic basket
-16.00 joint trip with a guide from Arbrå up to hide ca15min where we then spend the evening and night.
Day2

-08,00 journey home
Price 1950 sek

Brownbear watching
package
Day1
-Arrival 12.00-15,00 great lunch buffet with local produce at Orbaden Conference & Spa. Then the picnic basket is packed the guide takes you by acar into the wilderness, with a wealth of wildlife we have a chance to see moose, bear and grouse along the way. After the car ride expected a nice easy hike of 500-700m depending on the wind to the bear cabin.
Day2
-About 08,00 journey home from the cottage bears against Orbaden Conference & Spa where their breakfast buffet is served.
Departure about 10.00
Price 2550 sek

Brownbear watching
Package 3
With two nights
in two different
coverts
Day1
-Two nights in two different hides
Day one - Arrival at approximately 3 o'clock at Ängra Wildlife & Fishingcamp where a lovely Dutch influenced supper will be served. After supper each and every one packs a late night snack before we head over to the wonderful forest lake where our houseboat awaits.
Day 2

– At approximately 8 o'clock we return to Ängra Wildlife & Fishingcamp to enjoy breakfast. Between breakfast and lunch there will be time to spend on recreation, rest or why not try fly-fishing, there is equipment to lend. At 12 o'clock we head out to our second hide and on the way we stop for a lunch in the forest. Thanks to the rich wildlife, we have a great chance to see moose, bear and grouse along the way. To get to our bear cottage by the forest fen we will leave the car and take a light hike for about 500 m, depending on the wind.
Day 3

-Breakfast buffet at Orbaden Conference, Spa and Leisure.
Price: 5200 sek